FTI Treasury Talks: Choosing the Right Liquidity Structure for your In-House Bank
October 19, 2023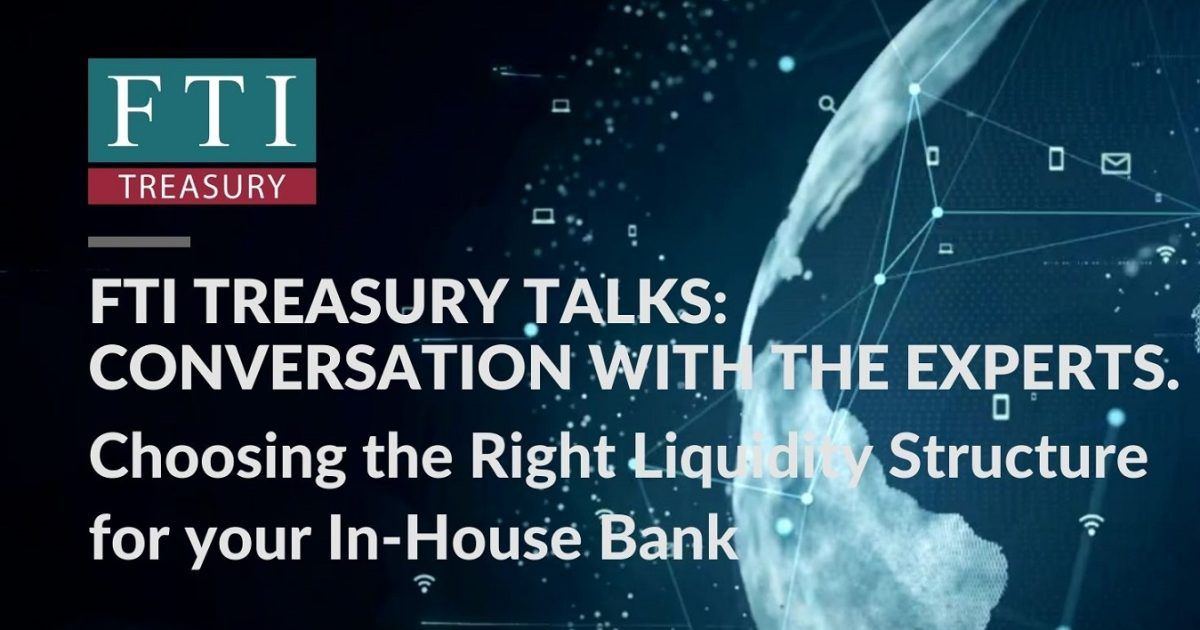 "FTI Treasury Talks: Conversations with the Experts" series aims to provide valuable insights and practical strategies in the fields of Treasury Outsourcing, In-House Banking Solutions, and Corporate Services.
In this second talk, "Choosing the Correct Liquidity Structure for Your In-House Bank," our panel of experts is set to illuminate various facets of liquidity structures, equipping you with the knowledge required to make well-informed decisions for your organization's in-house banking needs.
The recognition of the value of establishing in-house banks is growing within the corporate landscape. These internal banking entities offer a centralized approach to managing cash and liquidity, streamlining financial operations, and enhancing control over treasury functions. However, one of the pivotal decisions organizations encounter when setting up an in-house bank is the selection of the right liquidity structure that can effectively support their unique objectives and requirements. Choosing the most suitable liquidity structure for your in-house bank is multifaceted, demanding a profound understanding of treasury operations, regulatory compliance, and financial technology.
Justin Callaghan, CEO at FTI Treasury, Shane O'Keeffe: Head of Innovation at FTI Treasury, and Eileen Murray: Front Office Senior Manager at FTI Treasury, will cover the following topics:
Discovering the various liquidity structures commonly used in in-house banking and understanding their applicability.
Exploring the pros and cons of each liquidity structure from a front-office perspective. We will help you uncover which one aligns best with your organization's goals and requirements.
Delving into the critical considerations when selecting a liquidity structure, including EB to TMS integration, cash flow forecasting, cash reporting, and more.