FTI Treasury Talks Podcast Series
September 30, 2023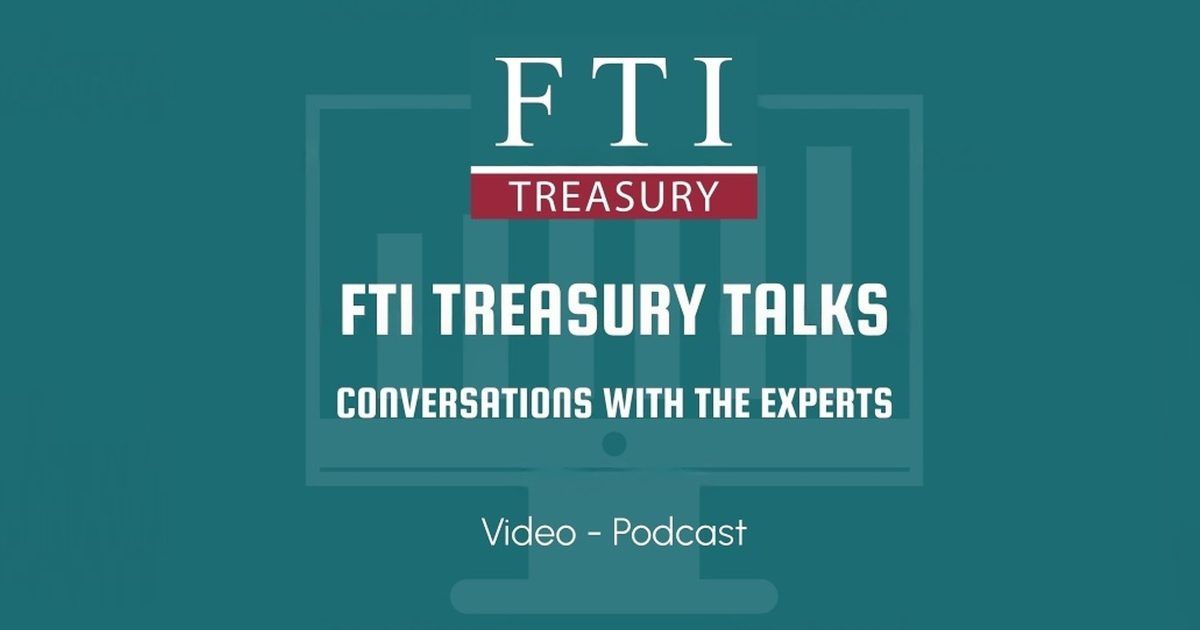 We're excited to introduce our latest venture: the podcast version of "FTI Treasury Talks: Conversations with the Experts."  This podcast series reproduces our video series in a different format and aims to be your go-to resource for valuable insights and practical strategies in the fields of Treasury Outsourcing, In-House Banking Solutions, and Corporate Services. Our mission is to bring you expert voices, industry trends, and actionable advice that will help you navigate the complex world of treasury management with confidence and success.
Episode 1: "Automating Treasury Accounting: Key Considerations & Importance"
In our inaugural episode, we dive deep into the significance of involving all stakeholders and adopting a pragmatic and transparent approach when implementing automation, specifically from a treasury system to an ERP. Titled "Automating Treasury Accounting: Key Considerations & Importance," this episode features two seasoned experts:
Marie Clarke: Marie is the Head of Finance at FTI Treasury, bringing a wealth of experience in finance and treasury management to the table.
Justin Callaghan: Justin, the CEO of FTI Treasury, has over 20 years' experience in international cash management, financial risk management, funding, internal corporate treasury structures and treasury operations.
In this episode, Marie and Justin will share crucial factors to consider when automating treasury accounting processes. They emphasize the value of comprehensive exploration and resolution of challenges during implementation, drawing from their extensive experience. You'll gain valuable insights into the effective automation of accounting processes and learn how to overcome common pitfalls in the journey toward greater efficiency and accuracy.
Episode 2: "Choosing the Correct Liquidity Structure for Your In-House Bank"
In our second episode, we shift our focus to the critical topic of liquidity structures within in-house banking. Making the right choice in this area is pivotal for the success of your organization's financial strategy. Our panel of experts will shed light on various aspects of liquidity structures, providing you with insights to make informed decisions tailored to your organization's unique needs.
This upcoming episode will feature in-depth discussions with experts who have a profound understanding of liquidity structures and their impact on your in-house banking operations. We'll explore various options, discuss the advantages and disadvantages of each, and guide you toward selecting the most suitable liquidity structure for your specific requirements.
This episode, moderated by Justin, Callaghan, will feature:
Eileen Murray: Front Office Senior Manager at FTI Treasury. Eileen Murray will be sharing her expertise during the talk. With her extensive background in treasury management, Eileen will explore the common liquidity structures for in-house banking and delve into their advantages and disadvantages from a front office perspective.
Shane O'Keeffe: Head of Innovation & Associate Director at FTI Treasury. Shane will unravel the key considerations when it comes to liquidity structures, including EB to TMS integration, cash flow forecasting, cash reporting, and more. His insights will provide you with a comprehensive view of the landscape.
Don't miss out on these enriching conversations with industry thought leaders. Stay tuned for Episode 1, where we delve into treasury automation, and get ready to gain a deeper understanding of liquidity structures in Episode 2.
Thank you for joining us on this exciting journey of knowledge and exploration. Subscribe to our podcast series to stay updated, and follow our blog for additional resources and insights on treasury management and financial solutions. FTI Treasury is here to guide you toward financial excellence, one conversation at a time.
You can listen to this podcast on all these platforms!